Press Kit
Media Inquiry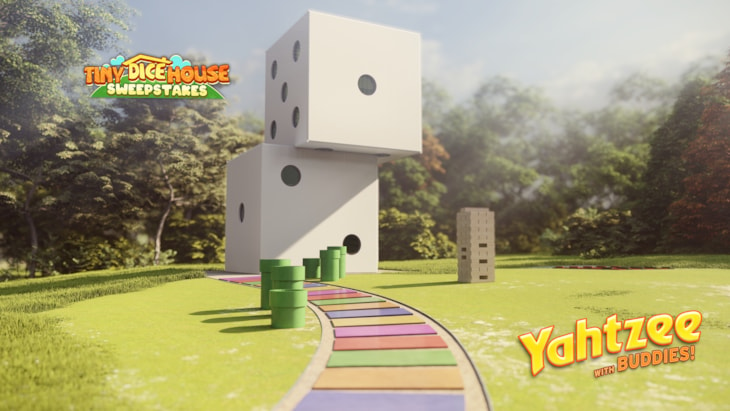 Roll Into A Tiny Board Game Paradise with YAHTZEE® With Buddies
YAHTZEE® With Buddies, the mobile game putting a new twist on the classic dice game, is hosting an in-game sweepstakes for a trip to the Tiny Dice House – a board game themed tiny house built by the creators behind the popular web comic, Tiny Dice Buddies. As the launch sponsor, YAHTZEE With Buddies is giving one of its players an exclusive opportunity to be one of the first guests of the Tiny Dice House.
With its unique stacked dice design, the Tiny Dice House pays homage to classic board games including one of the most iconic dice games in popular culture – YAHTZEE! Nestled in the serene woods of Greenville, SC, the board game-themed home offers the perfect tranquil space to play games without the distractions of city life. The Tiny Dice House with a big personality is the creation of Olivia Su and Vivian Chan, one of the winners of the OMG! Fund, Airbnb's fund to build the craziest places on earth.
Currently in construction, the Tiny Dice House is planned to be ready for Airbnb guests starting later this year. The <400 square footage house is tucked away in a corner of a wooded lot at the base of Paris Mountain, surrounded by trees and curious wildlife. The Tiny Dice House captures the spirit of YAHTZEE With Buddies, taking a familiar game and showcasing it in a new and unexpected way.
To enter the sweepstakes, YAHTZEE With Buddies players simply need to log in and play starting today through Sept. 29. Players can enter the sweepstakes by joining the Tiny Dice House sweepstakes event from the game's home lobby, and completing five milestones to beat the event and enter the sweepstakes. One winner will be prized an all expense trip paid for two people, including a two-night stay at the Tiny Dice House, round-trip airfare tickets, meals and ground transportation. 50 additional winners will win a one-month subscription to a YAHTZEE with Buddies Prize Pass code, with access to exclusive in-game content. Complete rules and regulations are available on the game's official product site at  playyahtzee.com/news/tiny-dice-house-sweepstakes.
YAHTZEE With Buddies is available at Apple's App Store and Google Play.
###