Press Kit
Media Inquiry
Review Request Form
Prepare For Mayhem: Meet Your Maker Unveils Sector 2: Shattered Peak
New Details About the Upcoming Revamped Raiding System Also Revealed
MONTREAL — Sept. 21, 2023 — Behaviour Interactive has unveiled Sector 2: Shattered Peak, the second major update for Meet Your Maker, set to launch on September 26.
Community Manager, Julia Dionne, Senior Creative Director Ash Pannell, and Game Designer Inouk Samson previewed all of the new content, the upcoming revamped Raiding system, and the future roadmap during the latest Community Update Livestream. You can re-cap everything that was unveiled here: https://www.twitch.tv/meetyourmakergame
"As always, it's our community that drives us forward, and we're grateful for the support and enthusiasm. We can't wait to embark on this new adventure with you on September 26 and onward. Our team has been pouring tremendous efforts in creating new content for Meet Your Maker and adding new game mechanics that will greatly enhance the players' experience, we're very excited for them to try it out," says Ash Pannell.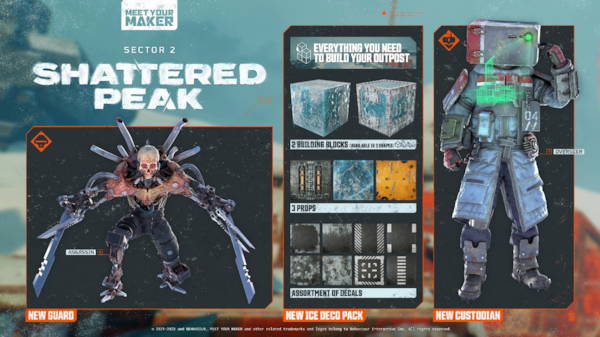 New elements coming to the game on September 26  
Chilling New Content
Sector 2 enhances the game's co-op and single-player experience with a bone-chilling new environment for players to immerse themselves in, a Deco Pack with textures and colors previously unseen in Meet Your Maker, and much more. The new environment and Deco Pack will be instantly available for free for all players:
NEW ENVIRONMENT: Shattered Peak
Deep in the desolate Arctic wastes lies the Shattered Peak Sanctuary. Once a bastion of science and technology, a contaminated GenMat shipment caused its residents to turn on one another, using their deadly creations to tear the Sanctuary apart from the inside.
A Deco Pack inspired by the Artic wasteland. Blocks of ice, frozen metal, thermal heaters, fluttering tarp, and a decal set featuring the markings of a northern shelter provides chilling new possibilities for Builders.
An Arsenal Pack featuring a unique new Custodian and guard will also be available to shake up gameplay for Raiders and Builders alike.
Equipped with the latest technological advancements, this suit allows the wearer to slowly glide after jumping. Its powerful Biolinks can reveal the location of the Harvester Path, Forsaken Tombs, and nearby resources.
The Assassin is a hunter that relies on stealth to ambush its target. With a stealth field based on Holocube tech, it remains nearly imperceptible until it unleashes a devastating dash attack. Once you see it, it might already be too late.
Raiding 2.0 — Expeditions
A glimpse into the future of Meet Your Maker was shown during our Community Update Livestream. Set to launch in late October 2023, our forthcoming Expeditions will let players embark through a brand-new map system, arming them with game-changing enhancements. This innovative update will redefine the raiding experience, putting more control in the hands of our dedicated community.
''The new Expeditions map sets the stage for players to progress through their Meet Your Maker journey as they keep raiding other players' Outposts, unlocking powerful rewards and exclusive abilities," adds Ash Pannell. "Paired seamlessly with our revamped difficulty system, Expeditions promises to empower players, giving them a meaningful new experience.''
Expeditions Summary:
New Expeditions Map: Players will progress their Expedition by raiding other player's Outposts, choosing their path and unlocking powerful rewards along the way.
Unlockable New Enhancements: Powerful, game changing abilities can be unlocked along the way, enabling players to customize their approach to raiding.
Exclusive Cosmetics and Decals: Unlock never before seen skins and decals for Raiders and Builders.
Empowering Players: The introduction of Expeditions will offer players more control over the type of Outposts they would like to raid.
Sector 2: Shattered Peak's content will be available September 26 at 1 p.m. EDT on Steam, PlayStation, and Xbox.
About Meet Your Maker
From the creators of Dead by Daylight comes Meet Your Maker, a building game of brutal expression and conquest. Players take on the role of Custodian of the Chimera, a living experiment created as a last resort to save life on Earth. They must enter a battle of skill and wits for the only remaining resource that matters, and the key to their Chimera's evolution: pure genetic material. They'll need to unleash their inner evil genius, building the ultimate fortress of devious deathtraps to protect this vital resource, or take on those built by others in a high-stakes heist to steal more. Designed for strategy and action fans alike, Meet Your Maker will grow over time, adding new content to an ever-expanding toolbox of traps, guards, and gear. Meet Your Maker is available on Steam, PS4, PS5, Xbox One, and Xbox Series X|S. For more information, visit meetyourmakergame.com.
About  Behaviour Interactive
Behaviour Interactive is the largest Canadian gaming studio, with more than 1,300 employees worldwide. Behaviour is best known for its flagship franchise, the multiplayer survival horror game Dead by Daylight™, which has entertained over 50 million players across multiple platforms. The studio is currently expanding its portfolio of original IP with multiple projects, including the acclaimed building and raiding title Meet Your Maker. Behaviour has also established itself as one of the world's leading providers of external development services. The company has partnered with many of the gaming industry's leaders, including Microsoft, Sony, EA, Warner, Netflix, and Take-Two, among many others. Over 30 years, Behaviour has developed an unparalleled, award-winning culture. The company was named one of the Best Places to Work in Canada by GamesIndustry.biz, and has been recognized with Deloitte Canada's Enterprise Fast 15 and Best Managed Company awards. Headquartered in Montreal, Behaviour has expanded its global presence with studios in Toronto (Behaviour Toronto), Seattle (Midwinter Entertainment), the United Kingdom (Behaviour UK – North and Behaviour UK – South) and the Netherlands (Behaviour Rotterdam). For more information, visit www.bhvr.com.
###