Press Kit
Media Inquiry
Review Request Form
Explore a Mysterious Island in Search of Lost Memories while Repelling Vengeful Spirits in KOEI TECMO's Nightmare Fuel, FATAL FRAME: Mask of the Lunar Eclipse, Available Now!
Long-Awaited Revival of a Japanese Horror Classic Finally Makes its way to the West!
BURLINGAME, Calif. – March 9, 2023 – Today, KOEI TECMO America is excited to announce that their remastered classic, FATAL FRAME: Mask of the Lunar Eclipse, is now available digitally for the Nintendo Switch™, PlayStation®4, PlayStation®5, Xbox One, Xbox Series X|S, and Windows PC via Steam®. The original game, released exclusively in Japan in 2008 for the Nintendo Wii®, has been one of KOEI TECMO's most requested remasters for over a decade, and this marks the first time FATAL FRAME: Mask of the Lunar Eclipse is available to play, not only in North America, but across multiple consoles and PC.
FATAL FRAME: Mask of the Lunar Eclipse takes place a decade after five girls mysteriously disappeared at a moonlight festival on Rogetsu Isle, an island in southern Japan. While all of the girls were eventually rescued, their memories were lost, with only the faint remembrance of a single melody and a seemingly possessed masked woman dancing in the moonlight. Now, ten years later, with still no memory of the events surrounding their disappearances, two of the five girls have died, and the remaining three teenagers — Ruka Minazuki, Misaki Aso and Madoka Tsukimori — head back to the eerie island to solve the mystery of their friends' deaths, while also unlocking the mystery of the memories left behind.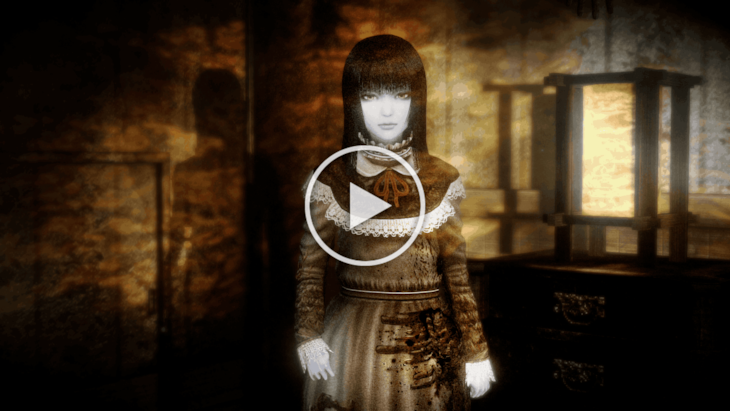 Click the thumbnail above to watch the Launch Trailer on YouTube
As the girls explore the western-style mansions and abandoned hospitals on Rogetsu Isle, they will rely on the moonlight and a faint flashlight to search for clues. The story progresses by discovering relics like old newspaper articles and notes that help the girls unravel the island's secret past. While exploring, the girls will also be confronted by a series of spirits. They will need to use a Fatal Frame franchise classic, the Camera Obscura, to repel vengeful ghosts, sealing away their power by photographing them. Throughout the game, the girls will need to equip stronger lenses and change out different films in order to capture the most powerful spirits, while also using the camera to capture "things that cannot be seen" to help them find the evidence they need to remember their haunting past. Later in the game, players will also be able to use the Spirit Torch – an exceptional device that uses moonlight stored in a spirit stone to subdue spirits.
The remastered game also features an all-new Photo Mode, along with new and altered costumes, and enhanced graphics including the improved rendering of shadows and light, delivering a more immersive and frightening experience. In addition, in-game movies and character models have been brushed-up to deliver a story that shines, both narratively and aesthetically as the three remaining girls attempt to rediscover their past before becoming victims once again.
Alongside the standard version of the game, KOEI TECMO America also released a special FATAL FRAME: Mask of the Lunar Eclipse Digital Deluxe Edition. Available digitally, this unique edition of the game includes the Rogetsu Isle Dinner Party Costume Set, and a digital art book (original soundtrack included).
In addition, anyone who purchases the digital copy of the game by March 22, 2023 will have the ability to download the early purchase bonus: Ruka Exclusive Costume "Marie Rose Outfit" from the Dead or Alive series. There is also a special save bonus costume for fans who have already played FATAL FRAME: Maiden of Black Water. Play FATAL FRAME: Mask of the Lunar Eclipse on the same device that has saved data from FATAL FRAME: Maiden of Black Water saved to receive the Save Data Bonus, the "Camera Obscura Hat".
For more information on FATAL FRAME: Mask of the Lunar Eclipse, please visit the official site, Like us on Facebook www.facebook.com/koeitecmous and Follow us on Twitter @koeitecmoUS.
ABOUT KOEI TECMO AMERICA CORP.
KOEI TECMO AMERICA CORP. is a publisher of interactive entertainment software for current generation consoles, handhelds and digital download content based in Burlingame, California. The company is a wholly owned subsidiary of KOEI TECMO HOLDINGS CO., LTD., headquartered in Yokohama, Japan. KOEI is best known for its Dynasty Warriors® and Samurai Warriors® franchises. TECMO is best known for the Dead or Alive®, Ninja Gaiden®, Tecmo Bowl®, and Fatal Frame® series.
###
©2008-2023 Nintendo / KOEI TECMO GAMES CO., LTD. ©2008-2023 KOEI TECMO GAMES CO., LTD.
"PlayStation", "PS5", and "PS4" are registered trademarks or trademarks of Sony Interactive Entertainment Inc.
Microsoft, Xbox, Xbox Series X|S, Xbox One, Xbox One X, Xbox Live, the Xbox logos, and/or other Microsoft products referenced herein are either trademarks or registered trademarks of Microsoft Corporation.
Nintendo Switch is a trademark of Nintendo.
©2023 Valve Corporation. Steam and the Steam logo are trademarks and/or registered trademarks of Valve Corporation in the U.S. and/or other countries.