Press Kit
Media Inquiry
Review Request Form
FATAL FRAME: Mask of the Lunar Eclipse
Digital Pre-orders Now Available
New Trailer Showcases Photo Mode and Alternative Costumes
BURLINGAME, Calif. – Feb. 9, 2023 – Today, KOEI TECMO America announced that their remastered classic, FATAL FRAME: Mask of the Lunar Eclipse, is now available for digital pre-order. The long-awaited revival of this Japanese horror adventure is currently under development for the Nintendo Switch™, PlayStation®4, PlayStation®5, Xbox One, Xbox Series X|S, and Windows PC via Steam® and will be available digitally March 9, 2023.
FATAL FRAME: Mask of the Lunar Eclipse takes place on a Rogetsu Isle in southern Japan, a decade after five young girls mysteriously disappeared at a moonlight festival. When two of the girls are found dead, just days apart ten years after the initial vanishing, the remaining three teenagers — Ruka Minazuki, Misaki Aso and Madoka Tsukimori — head back to the spooky island to solve the mystery of their friends' deaths and their hazy memories. As players encounter the terrifying sprits that inhabit Rogetsu Isle, they are equipped with the Camera Obscura. This special camera can be used to not only repel the ghostly creatures, but to seal away their power through photography. Later in the game, players will also be able to use the Spirit Torch – an exceptional device that uses moonlight stored in a spirit stone to subdue spirits.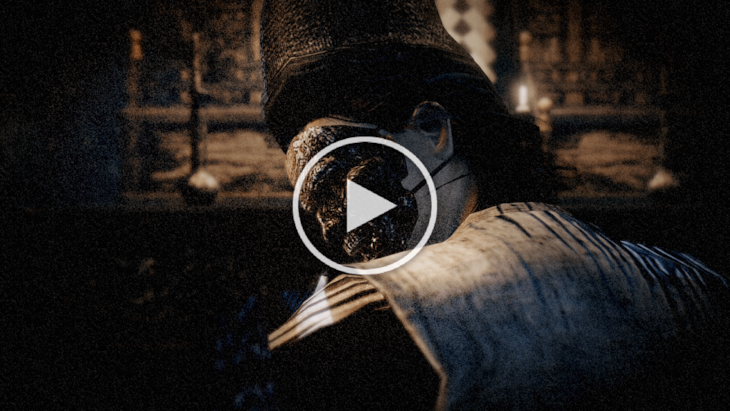 Click the thumbnail above to watch the Story Trailer on YouTube
In the haunting new trailer debuting today, players get a frightening preview of FATAL FRAME: Mask of the Lunar Eclipse's storyline, along with a closer look at some of the game's mechanics, including Photo Mode, where players will be able to capture all of the haunting memories and moments throughout their adventure. The trailer also showcases a first glimpse of the alternative costumes available to each character, including the original lineup of outfits, along with slightly altered versions, as well as all-new costumes to help experience the investigation in a variety of fashion.
Alongside the standard version of the game, KOEI TECMO America will also release a special FATAL FRAME: Mask of the Lunar Eclipse Digital Deluxe Edition. Available digitally, this unique edition of the game includes the Rogetsu Isle Dinner Party Costume Set, and a digital art book (original soundtrack included).
In addition, anyone who purchases the digital copy of the game by March 22, 2023 will have the ability to download the early purchase bonus: Ruka Exclusive Costume "Marie Rose Outfit" from the Dead or Alive series. Fans who preorder the game by the release date will also receive a variety of costumes, including the Ruka Limited Edition Costume "Fox Mask" (white/red), the Misaki Limited Edition Costume "Fox Mask" (black/scarlet), the Choshiro Limited Edition Costume "Fox Mask" (black/blue), and the Ruka Misaki, and Choshiro Limited Edition Costume "Spirit Stone Flashlight Hat". There will even be a special save bonus costume for fans who have already played FATAL FRAME: Maiden of Black Water. Play FATAL FRAME: Mask of the Lunar Eclipse on the same device that has saved data from FATAL FRAME: Maiden of Black Water saved to receive the Save Data Bonus, the "Camera Obscura Hat".
For more information on FATAL FRAME: Mask of the Lunar Eclipse, including more information on the locations and characters featured in the game, please visit the official site, Like us on Facebook www.facebook.com/koeitecmous and Follow us on Twitter @koeitecmoUS.
ABOUT KOEI TECMO AMERICA CORP.
KOEI TECMO AMERICA CORP. is a publisher of interactive entertainment software for current generation consoles, handhelds and digital download content based in Burlingame, California. The company is a wholly owned subsidiary of KOEI TECMO HOLDINGS CO., LTD., headquartered in Yokohama, Japan. KOEI is best known for its Dynasty Warriors® and Samurai Warriors® franchises. TECMO is best known for the Dead or Alive®, Ninja Gaiden®, Tecmo Bowl®, and Fatal Frame® series.
###
©2008-2023 Nintendo / KOEI TECMO GAMES CO., LTD. ©2008-2023 KOEI TECMO GAMES CO., LTD.
"PlayStation", "PS5", and "PS4" are registered trademarks or trademarks of Sony Interactive Entertainment Inc.
Microsoft, Xbox, Xbox Series X|S, Xbox One, Xbox One X, Xbox Live, the Xbox logos, and/or other Microsoft products referenced herein are either trademarks or registered trademarks of Microsoft Corporation.
Nintendo Switch is a trademark of Nintendo.
©2023 Valve Corporation. Steam and the Steam logo are trademarks and/or registered trademarks of Valve Corporation in the U.S. and/or other countries.